Authentic, Unique Local Flavors
The Campbell Culture Coalition has produced the Louie Bluie Music and Arts Festival since 2007.
From 10am to 6pm, every last Saturday in September, the Louie Bluie Music and Arts Festival is held at beautiful Cove Lake State Park in Caryville, TN. Live music, outstanding food, kids activities, artisans, and judged art and quilt exhibits, draws more than 7,000 visitors for a day like no other!
The Campbell Culture Coalition produces the festival by partnering with about 150 volunteers! It's free to all! Get Involved.
The Man Behind the Legacy
Inspired by Howard "Louie Bluie" Armstrong, this music and arts festival aims to bring together some of the strongest talent in the area that embodies the spirit of Louie Bluie. It celebrates Armstrong's contribution to the arts and encourages musicians and artists to hone their own talents. Historically, Campbell County is a place steeped in roots music, and that's still true today. It's the home of Armstrong, the festival's namesake, who grew up in LaFollette in the 1920s and was an incredibly talented man – visual artist, storyteller, and U. S. goodwill ambassador who played fiddle, mandolin and guitar, among others.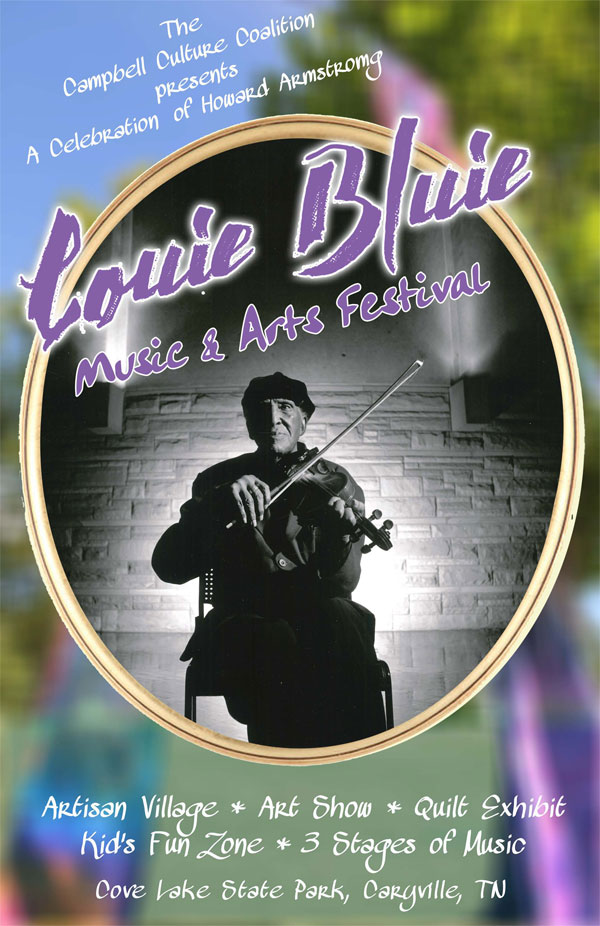 What You'll See at the Festival
Authentic and unique local flavors that connect us with friends and about-to-be friends. Explore new foods, old traditions, and feel the vibes!
OLD TIME STRING MUSIC JAM TENT
Join us!
It will only take a minute
Your dues and financial support will be put to extraordinary use. And not least of all, your donation stays in the region, where you see the results.